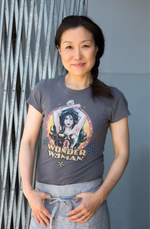 Meet the Founder!
Hyunjoo was born and grew up in South Korea. Her grandmother was from PyongAn province, a part of North Korea now. When the Korean war broke out, her grandmother and her family escaped to South to avoid the North Korean soldiers. They settled down in a small village very close to the Demilitarized Zone (DMZ) with the hope that when the war was over, they could return to their hometown. She ran a small restaurant serving Korean and American soldiers near the army base and Hyunjoo was her favorite kitchen assistant.
Since moving to US in 2003, Hyunjoo went to a culinary school and worked in restaurants, country clubs, and catering companies as a chef and taught Korean cuisine at cooking schools around Bay area. In 2010, encouraged by friends and neighbors who love her Kimchi, Hyunjoo decided to build a food company around what she learned from her grandmother and what she knows and loves the most. She started very humble with a recipe of her grandmothers', $8,500 in saving, and one farmer's market in the neighborhood. Her Kimchi, Gochu Jang, and other Korean products are now available in thousands of retail stores nationwide and including Whole Foods Market and Sprouts Farmer's Market and loved by many professional chefs at places such as Google, Stanford Univ., and Intercontinental Hotel. Before jumping into food world, Hyunjoo worked in Marketing & Sales in Sillicon Valley tech company.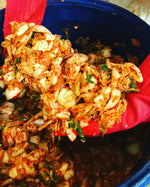 How We Make It!
To make everything artisanal from scratch is not easy at all. It requires a lot of work from ingredient sourcing, employee training, investment in equipment, Quality Control….just to name a few. To make food that is tasty and healthy, the ingredients always have to be clean and fresh. Most of our ingredients are sourced locally. We're very lucky to have employees that are dedicated and staying with us for a long time. Traditional way of food making involves a lot of extra steps. We use equipment in repetitive simple processing so our employees can focus more on areas that require more technique and human touch in the making process. The best thing about making ourselves from scratch is we have a total control of ingredients and quality. There is old saying in Korea ' Oldies, but goodies' and this definitely applies to the foods we make.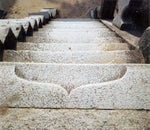 What is SINTO
The word "sinto" comes from an old saying in Korea: SINTO BURI. It is written '신토불이' in Korean and it literally means 'body and soil can not be separated'. Sinto buri means our bodies and spirits are at their best when eating foods that grow on the soil we step on. In Korea it is used to emphasize the importance of local food and where food comes from. At Sinto Gourmet we integrate sinto buri into all the food we prepare and everything we do.
When I first moved to San Francisco in 2006, I was pleasantly surprised to see the big movement of local food. The philosophy of food culture is very similar in Korea. Many people drink wheat grass juice for breakfast and eat seaweed during the winter to prevent them from catching a cold. These are the foods I grew up with.
My husband, John, and I took a sabbatical vacation to Tibet in 2010. During the visit to countless monasteries, I noticed a lotus flower painted on a red bench which is used as a table for monks to put their belongings such as a tea cup, books, prayer necklace, etc, during meditation. As a buddhist myself, I chose this flower to integrate into my company logo. The shape of my company logo was also inspired by the Lotus Flower Stairway leading to The Temple of Abode Land, a famous temple in Korea.
Our Promise
0

Absolutely No MSG, NO preservatives, and NO additives are used in our products.

It's too bad that so many food products on store shelves are still made with things that you cannot even pronounce. Please check out the ingredient list on my labels. All of them are natural and easily recognizable. You know what they look like, what they smell like, and what they taste like. We offer gluten free Kimchi and Gochujang, and they contain probiotics that make it great for gut health.

0

We treat employees fairly.

My company is family oriented and this extends to the treatment of our employees as well. I treat them with simple honesty and respect.

0

We source locally whenever possible, which is most of the time.

I try to use locally produced ingredients as much as possible. Local produce not only saves energy, it also tastes better and is better for you because it's harvested when fully ripened. Although, I do have to admit that a few ingredients, such as Korean red pepper powder are imported and Napa cabbage sometimes comes from outside of California because of seasonality.